Heavy vehicle wash machines
The Heaviest Cleanliness
A clean vehicle is your company's most visible business card, whether it's a truck, bus, tanker or garbage truck. From us, you get real heavy-duty expertise for washing heavy equipment.
A dirty vehicle may have collected a lot of sand and other dirt, so it also consumes more fuel. Our heavy equipment washing equipment cleans vehicles of all shapes and sizes, even very dirty ones.
Investing an automatic washing machine pays for itself quickly!
Clean equipment easily and cost-effectively
It is not worth spending work time on washing heavy equipment by hand, when our advanced washing machines do it efficiently, safely and reliably using automation.
We get to know your needs and look for the best, individual washing solutions together. We deliver, install and test the washing system for operational condition, and we also guide you in choosing chemicals.
High-pressure wash as the main factor
High pressure significantly affects the wash result. The water jet also reaches the areas which the brushes cannot reach, and especially the oscillating zero-degree nozzles remove even thick layers of dirt.
Comprehensive double coverage sweeping
The side jets clean the sides of the vehicle from sill to roof. Pivoting side arch and together with the oscillating nozzle movements effectively direct the pressurised water jets into crevices and depressions.
Vertical front contour tilting brush action
Brush pneumatic inclination instead of the traditional power push and tilt method, following the shape of the front, gives excellent wash result for the entire surface without endangering the vehicle's large windshields.
Enhanced washing of hems and wheels
The hem nozzles can be activated both brushless and brush wash, from the front to the rear.
Powerful chassis wash
Chassis wash can be activated both brushless and brush wash when the vehicle drives over the spray head.
Wide range of options
There are several different washing functions to choose from and ways to follow the shape of the vehicle, such as the mirror bypass function.
RAINBOW ULTIMA automatic wash machines
Rainbow Ultima is the most advanced and efficient automatic washing equipment for heavy vehicles with a very wide range of applications. The most typical vehicles which are washed with Ultima are trucks and buses.
Ultima wash machines can be equipped with two or three brushes, with side and top high pressure. These wash machines are available as roll-over and drive-through machines with floor or wall mounted running tracks, depending on the model. Thanks to advanced automation systems, all types of vehicles can be cleaned efficiently.
In roll-over machines, the vehicle remains stationary throughout the wash. In drive-through the front part is washed first (stationary), then the driver moves the vehicle for wash of the sides and at last stays put for the wash of the rear.
Brushless wash power is needed for washing tankers, fire trucks, concrete and waste transportation trucks, and this especially the Rainbow Ultima Spinner offers.
Alternatives for high-pressure washing are oscillating zero-degree nozzle, rotating Spinner nozzle and v-spray nozzle equipment.
The equipment to be washed and the size of the wash bay largely determine what kind of washing machine and with which options is the most suitable package for the customer.
Rainbow Ultima
Wash machine intended for washing all kinds of heavy vehicles. Standard model.
Washable vehicles: all heavy vehicles, mainly trucks and buses
Roll-over
Rainbow Ultima TWIN
Washable vehicles: buses and metro trains
Two-unit roll-over
Offers speed: one machine washes the front and the other the back which cuts the lead time almost in half
Rainbow Ultima DT
Washable vehicles: buses
Drive-through with 2 or 3 brushes
Possible to install also into a shorter wash bay
Rainbow Ultima AR
Washable vehicles: all heavy vehicles
Roll-over
The running tracks are installed up to the wall or with a pillar structure
Allows a wider floor space to be left open and free
Rainbow Ultima Spinner
Washable vehicles: tankers, garbage trucks, earth movers, tractors and other vehicles with odd shapes
Roll-over
For washing difficult shapes and large amounts of dirt
Zero-degree nozzles in nozzle units which rotate around their axis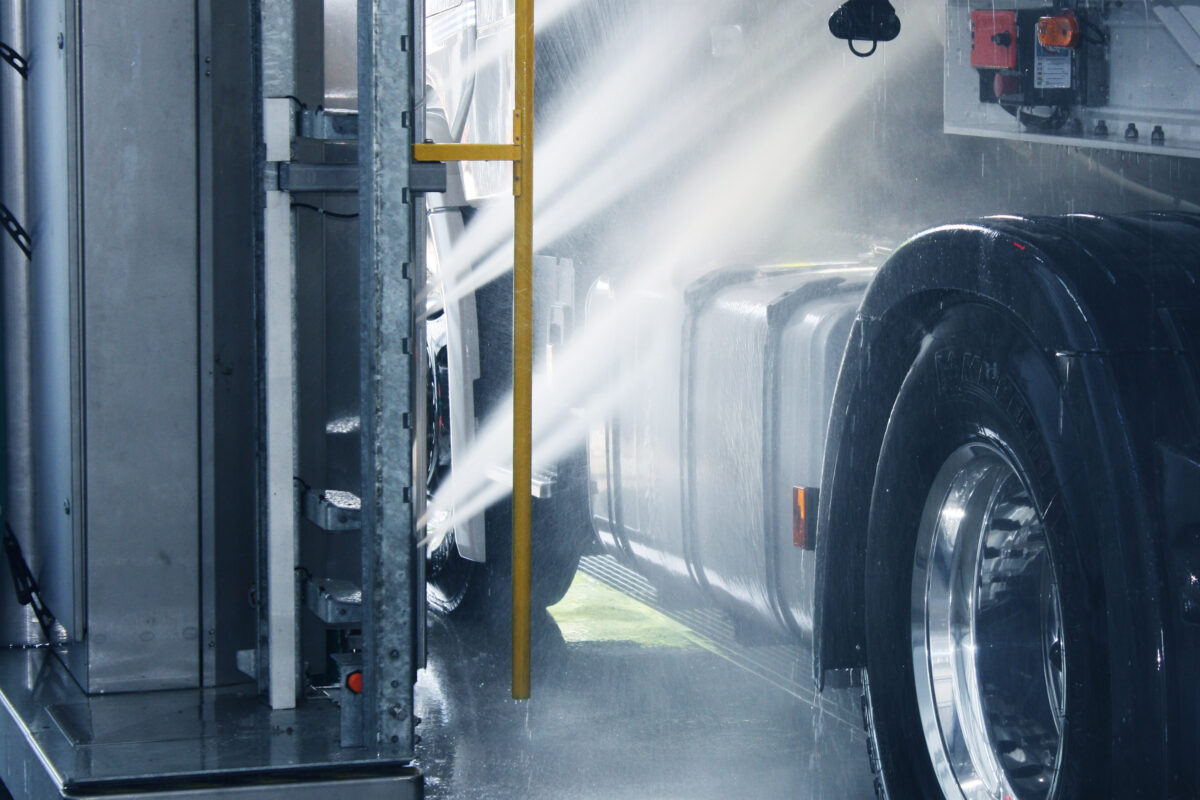 heavy machinery
Product options
Comprehensive features can be selected according to the equipment to be washed and the desired washing programs.
Other heavy duty vehichles
We manufacture wash machines for all kinds of heavy vehicles. The XJ 400 series is a simpler collection, mainly for washing buses.
XJ-404
Washable vehicles: buses and metro trains
Drive-through
4 side brushes
XJ-405
Washable vehicles: buses
Drive-through
4 side brushes + 1 top brush
Washing of rail equipment
Trains, metro trains, trams and cable cars: the choice of a wash machine largely depends on the restrictions set by the building intended for washing and the desired operating principles of the wash machine. Train wash units are always customized as needed.
XJ404TR
Washable vehicles: cable cars and trams
Drive-through (like XJ404 but without a top frame)
XJ204WB4
Washable vehicles: trams
Drive-through
4 side brushes + window brushes
XJR
Washable vehicles: trains, trams, metro trains
Roll-over or drive-through
Line set up with front and back washing units
Train wash units are always customized as needed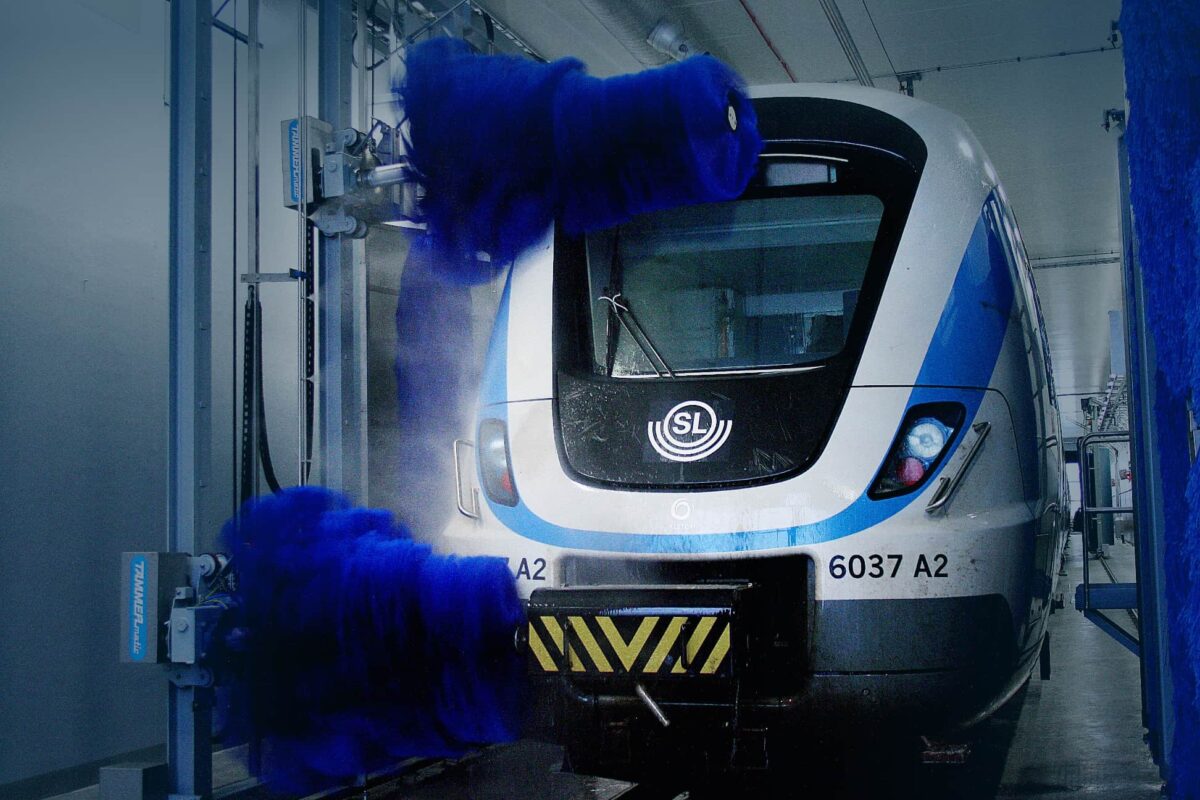 Rail equipment
Rail vehicle washing systems
Rail vehicle washing systems are always customized based on the needs and equipment. The washing system can be drive-through or roll-over, and the number of brush units can be adjusted depending on the type of train and washing frequency.
Ancillary products
In mines and on construction sites the vehicle must be washed before returning to the road. For this purpose, a drive-through chassis wash is often sufficient.
CW150 / CW200 / CW300
Separate chassis wash
Different models
Dryers are used separately after the washing line.
4D
Drive-through dryer
Four blowers (2 + 2)
6D
Drive-through dryer
Six blowers (3 + 3)